Feed Iowa First is so grateful for what Brecke has made possible by plumbing our pack house.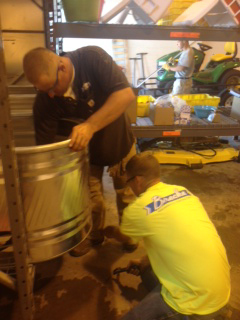 Feed Iowa First has 12 farms that equal about 25 acres of vegetable production. This year we produced almost 30,000 lbs. of vegetables, of which, 100% was donated. All of the vegetables need to be washed before going to Meals on Wheels, Mission of Hope, Green Square Meals, HACAP, and food pantries.
Prior to the pack house plumbing we operated out of buckets and a hose. Brecke made it possible for us to safely and sanitarily wash the vegetables in a professional system.
The system they built is amazing. They plumbed in three wash tubs, a hose outlet so we can wash things outdoors, drainage for our lettuce spinner, a.k.a. washing machine, two sinks, floor drains, and an amazing grey water capturing system so not a drop of water is wasted in our system but is instead recycled into irrigation.
We could not move forward in our mission to combat food insecurity without the partnership and support from concerned companies like Brecke Mechanical Contractors.
Sonia Kendrick
Feed Iowa First