---
Copper T-Drill
We add copper tube and pipe branches that are stronger than the original!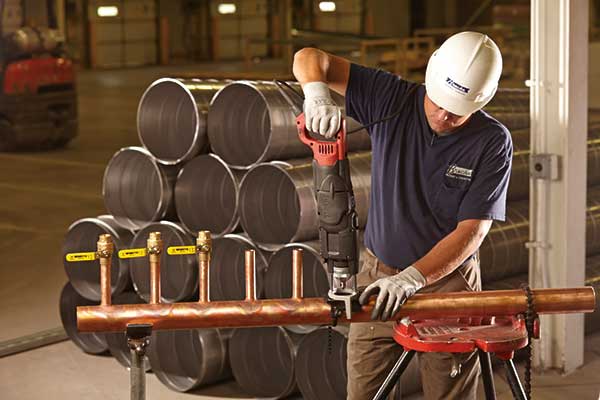 Copper tube and pipe branching is fast, simple, and strong when Brecke is on the job.
Our experienced and knowledgeable technicians are even more efficient with the new Copper T-DRILL in hand. Branching with the T-drill method is approved by over 24 codes and compliances—and is accepted by the most demanding companies, including NASA.®
Efficient and reliable!
We can pull 1/2" to 4" outlets on tubing 1/2" to 8" on K, L, or M copper … even in hard to reach places.
It's fast (average of 7 minutes to pull one socket) and all tees are brazed in place.
Tested and documented structural integrity (tensile strength is greater than the copper pipe itself) with excellent flow characteristics.
Great for water meter, boiler manifolds, refrigeration racks.
Reduces labor by 60%
Eliminates 2/3 of joints!
---
Contact us at (319) 396-7055 or 1-800-728-7055 to discuss tube and pipe fabrication for your business or facility.